Choose your starter kit
Free booster pack
Free delivery
60-day risk-free trial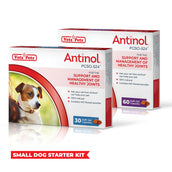 Antinol®️ Starter Kit Small Dog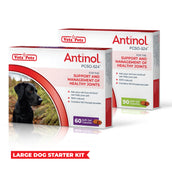 Antinol®️ Starter Kit Large Dog
Importance of the first 14 days with your free booster pack
There's a reason we are giving you a free 30-capsule pack: use this booster pack to double the capsules for the first 14 days, as per the instructions below. This will kickstart the effects in your pet's body for the most dramatic results.
Our clinical studies show that owners wanting to support their pet's life-long healthy mobility with Antinol®️  have seen transformational results by doubling the number of capsules fed in the first 14 days.

Small Dogs
Under 20 kg
First 14 days

2 capsules daily
Maintenance

1 capsule daily

Medium/Large Dogs
Over 20 kg
First 14 days

4 capsules daily
Maintenance

2 capsules daily
Tasty tips
Most dogs think AntinolⓇ capsules are delicious, and they'll eat them straight from your hand.
Got a picky eater? Here are some top feeding tips.
Disguise it in their normal food.
Hide it in a tasty snack (wrapped in ham or a lump of cheese).
Pierce the capsule and mix the oil in with their dinner.
Tasty tips
60 day risk-free trial
Some owners see an impact of AntinolⓇ within a few days—others take a couple of weeks. Most pet parents are overjoyed with their pet's mobility within the first 60 days.
Like humans, all of our waggy friends are different, which means Antinol may take different times to show results. But we guarantee you will see a difference in your dog within 60 days, or we'll give you your money back.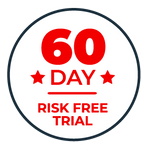 Not happy? No worries.
Our 60-day risk-free trial has got you covered.
Track your progress
When you start to notice changes in your dog, it's easy to forget where you started — so keep track of your dog's mobility from day 1 with our Pet Mobility Tracker.
1

Download the Pet Mobility Tracker app

2

Register your dog and fill in the day 1 survey. Note down what made you worry about your dog's mobility

3

Keep tracking your dog's mobility progress at days 15 and 30

4

See the difference in just 30 days
Track your progress
Some owners see an impact with Antinol within a few days – others in a couple of weeks. Most pet parents are overjoyed with their pets' mobility progress within the first 60 days.
When you start to notice changes in your dog, its easy to forget where you started – so keep track of your pet's mobility from day 1 with our Pet Mobility Tracker.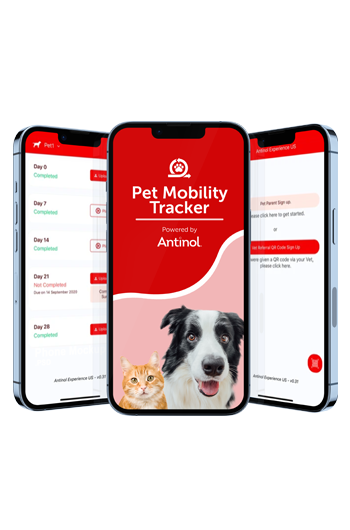 Now what?
You've been feeding your dog AntinolⓇ for a while. Now what?
1

AntinolⓇ is safe for lifetime feeding

Support your dog's mobility for years to come.

2

Get deliveries to your door when you need them.

3

Let's keep happiness in motion. Follow our channels and share your story
Get Started!
Free booster pack
Free delivery
60-day risk-free trial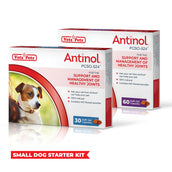 Antinol®️ Starter Kit Small Dog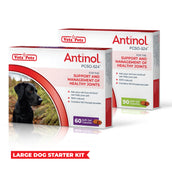 Antinol®️ Starter Kit Large Dog
Still got questions?
Find your answer in our FAQs, or drop us an email via our contact form
What is the 60-day risk-free trial?

We offer a 60-day risk-free trial to all our new Antinol®️ customers. Simply purchase one of our starter kits, try it with your pet for 60 days and if you don't see results we'll give you a full refund on your order.

I already feed a joint supplement to my dog. Why should I switch to Antinol®️ ?

Our extraction process is unlike any other supplement. Our proprietary stabilisation process is applied to sustainable New Zealand Green Lipped Mussels, and then the oil is extracted using another patented supercritical CO2 fluid extraction process. This ensures all the active properties are harnessed and packed into our Antinol®️ capsules. The waste powder is recycled into other products.

- 200x more potent than Flax Oil

- 175x more potent than Salmon Oil

- 175x more potent than Evening Primrose Oil

- 125x more potent than Green Lipped Mussel Powder

- 100x more potent than Max EPA

Can I feed Antinol®️ to my puppy?

There is no minimum age for the use of Antinol® in dogs and it can be used from weaning. However, its indications for use should follow the professional judgement of a clinician.

Are there any side effects?

Side effects from Antinol® are rare, so if you see any symptoms in your dog/cat, please consult a veterinary surgeon. Rare symptoms may include gastrointestinal signs such as diarrhoea or vomiting. As the capsules are made of gelatin derived from beef, we recommend that you give only the internal contents (the oil) to a dog/cat that is allergic to beef or cow products and not the external soft gel capsule. If you think your pet is having an allergic reaction please consult your vet immediately. Antinol® is made with fatty acids from shellfish (mussels), and though the possibility of an allergic reaction is low, please do not give Antinol® to your dog/cat if you know they are allergic to shellfish. If you have any concerns, please consult a veterinary surgeon.

Can Antinol be fed with prescription-only medicines?

Antinol® has no known side effects or unfavourable interactions with any other medications or supplements, although we would not recommend giving other Omega-3 or marine oils at the same time. Clinical studies have shown that Antinol® is best used as part of a multi-modal osteoarthritis management plan and it can be given daily alongside medications such as non-steroidal anti-inflammatories (NSAIDs) as a long-term nutritional supplement.

Up to 90% of pet owners saw a difference in their pet's mobility whilst using Antinol®. A unique formulation of oils and fatty acids are extracted in a proprietary process, ensuring the active properties are preserved. Antinol® supports your dog's natural anti-inflammatory pathways, soothing joints and supporting normal mobility.  

Why should I feed Antinol®️?

Due to Antinol's® unique active ingredient, this supplement is primarily used as a joint support supplement in the case of osteoarthritis. The concentrated formula supports the metabolism of joints, allowing your pet to maintain a healthy and active lifestyle. Antinol® has been used successfully in other conditions such as to support healthy brain function during ageing or for healthy skin and coat, so we recommend speaking to your vet for extra information.

What are the ingredients?

Here is our ingredients list in decreasing order, with the heaviest ingredient first: Extra virgin Spanish Olive oil, Gelatin, PCSO-524 (50mg), glycerine, D-Alpha Tocopherol (Vitamin E). The only additive in Antinol® is Vitamin E to prevent the oils oxidising and ensure shelf-life. The raw materials are 100% natural ingredients and we are very particular about the production area and quality.  

Should I consult with my vet before feeding Antinol?

Antinol®︎ is a natural product with no known serious side effects. As with any product, you should read the usage instructions on the back of the pack. If in doubt, check with your veterinary surgeon regarding the amount of Antinol®︎ your dog or cat should take. If your vet doesn't currently know about Antinol®︎, send us their details, and we'll be happy to get in touch with them.

Can I claim on my insurance for Antinol?

All insurance policies are different, and we cannot comment on individual cases or policies. However, if you can claim for supplements, after each purchase, you will receive a purchase confirmation via email (be sure to check your spam/junk folder). There is a highlighted link within the email to print your receipt as proof of purchase for your insurance company. 

Why do my capsules sometimes look cloudy?

This cloudiness or sediment is caused by the crystallization of fatty acids within the capsule. It is a natural process and occurs randomly in the formulated product with cooler storage conditions (change of weather/ refrigerator storage). These temperature conditions will also make the soft gel capsule feel firmer. These changes are normal and do not affect the integrity, safety or performance of the product.

Are there any discounts available?

Absolutely! Save 5% on every order when you subscribe + save.When you tailor your plan, you can save 5% on each order and receive free shipping on orders over €80. 

View all FAQs
Ready to get moving?
Free booster pack
Free delivery
60-day risk-free trial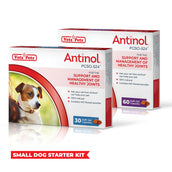 Antinol®️ Starter Kit Small Dog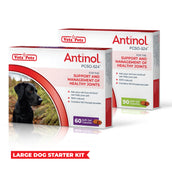 Antinol®️ Starter Kit Large Dog